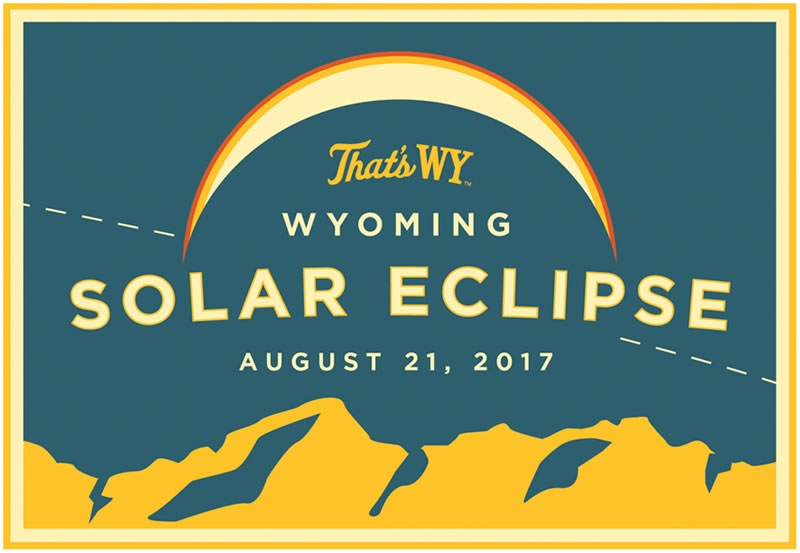 Pick a topic to learn more:
Local Eclipse Events & Festivities
---
For the first time since 1918, a total solar eclipse is coming to Wyoming. On August 21, 2017, the eclipse will make its way across the beautiful Wyoming skies. Astronomers, eclipse enthusiasts and travelers from around the world are making their plans to convene in Wyoming to experience one of the most breathtaking sights on earth in one of the most beautiful places in the world.
Pick up some eclipse viewing glasses at the Wyoming Frontier Prison & the KOA Campgrounds where they are available for sale.
Local Eclipse Events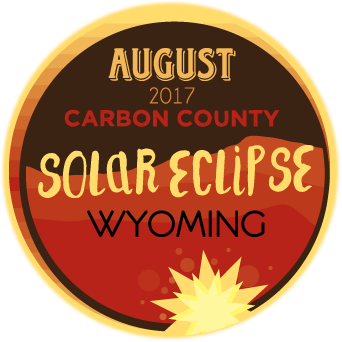 August 17, 2017
Music in the Park featuring "The Good, The Bad & The Blues"
Washington Park, Rawlins, WY
Food & drink begins @ 5:30 pm, Concert starts at 7:00 pm
50/50 raffle benefits different non-profit each week
8/14-18 Eclipse Viewer – Educational craft, Carbon County Libraries
8/19 Edison Illuminated Exhibit Opening @ Carbon County Museum, Rawlins, WY
August 19, 2017
Riverside Party Day, Riverside, WY
Come down for the annual Riverside Party Day featuring live music. Bring your lawn chairs and dancing shoes! Held at the Rick Martin Memorial Park. BBQ starts at 4pm with live music starting at 5 pm.
August 19, 2017
Steinley Cup Microbrew Festival
Veterans Island Park, Saratoga, WY
Starts at 1:00 pm
Microbreweries from Wyoming are slated to compete for the coveted Steinley Cup at the annual competition. The original and only official State of Wyoming Microbrew Competition will showcase breweries based in Wyoming.
Live music will provide entertainment for the day-long event (1pm to 5 pm). The park location features great playground equipment for the kids and horse shoe pits. Local and regional crafters will be showing their hand crafted creations so you can bring home your own trophy. Great food vendors and a chili competition complete the day.
And don't forget the "Trout Run 5K" fun run in the morning. Rain or shine, we welcome you to the "Good Times Valley" for the weekend!
August 20, 2017
Live music & street dance in downtown Rawlins, WY
Get ready for the eclipse with food, fun & live music by Still House Blues! Sponsored by the Rifleman Club Bar. Join us at Depot Park (4th & Cedar Street).
August 21, 2017
Eclipse on the Green
Held at the Rawlins, WY Recreation Center Soccer Fields (2301 Harshman)
Starts at 10:00 am
Live radio broadcast with BigFoot 99, free eclipse viewing glasses, food vendors, games, kites, face painting, jumping house, and more. Bring your lawn chair, family & friends and enjoy the great Eclipse of 2017!
August 21, 2017
Twilight Tournament at Rochelle Ranch Golf Course, Rawlins, WY
Come to Rochelle Ranch (2808 East Rochelle Drive) for the Twilight Tournament starting at 9am with shotgun start and eclipse glasses with every entry. Enjoy the open spaces of the course as daytime twilight descends! Call 307-324-7121 to register.
August 21, 2017
Edge of Eclipse Experience
Rawlins is a great place to be for the Eclipse Across America weekend! With downtown businesses extending their hours and bringing in special merchandise, 8 events Saturday-Monday, and much more, be sure to include Rawlins in your plans.
Learn more by visiting: http://rawlinsmainstreet.org/events/eclipse/
---
Learn More About the Eclipse
What is a total solar eclipse?
Essentially, it's when the moon moves in front of the sun, covering it completely for a very short time. Stars come out, the horizon glows with a 360-degree sunset, the temperature drops and day turns to night. The darkness of the sky gives you a unique view of the beautiful corona that surrounds the sun. Important note: You'll want to pick up a pair of eclipse glasses to see this event take place; looking directly at the sun without these specialized glasses could cause eye damage.
Where can I get more information?
• Wyoming Office of Tourism Eclipse Information
• 29 epic places to witness the 2017 solar eclipse
---
Area Eclipse Specials
Carbon County Fairgrounds for Camping
Are you traveling to Rawlins, Wyoming to see the solar eclipse? Check out the Carbon County Fairgrounds as a lodging option for travelers with Rvs or for tent space for campers. Traveling with horses? They have room to house them. Easy On/Off of Interstate 80, room for camping, electrical hookups, showers. Rawlins is a great stopover place on your journey to view the biggest event in Wyoming this summer! Reservations are suggested. Call 307-328-7811 or email fairgrounds@carbonwy.com for information or to make a reservation.
Rates:
June 1-August 19, August 22-Sept 15 $40 per night (Campers w Electric)
August 21 and 21, $50 per night (Campers w Electric)
Tents $30 per night