Fun Fact: The Official State dinosaur is the triceratops
Carbon County, Wyoming has its own collection of places to vist for paleontologists and paleo-enthusiests.
The World's Oldest Building: The Fossil Cabin at Como Bluff
The fossil cabins is located on US Route 30/287 around 5 miles east of Medicine Bow in Carbon County, Wyoming. The cabin was built alongside the Lincoln Highway in 1932 by Thomas Boylan using dinosaur bones he collected from nearby Como Bluff.
The cabin is supposed to contain around 5,800 dino bones and has been called the "world's Oldest Building". It is listed in the National Register of Historic Places for being unique and for being directly related to the nation's first transcontinental highway.
The Fossil Cabin at Como Bluff is on privately held land.
Learn more about the Fossil Cabin here.
Como Bluff
Como Bluff is the place where the fossils from the Fossil Cabin came from. This ridge of the Morrison Formation is where some of the best preserved dinosaur bones have been found. Dinosaurs roamed the earch for 165 million years and may large terrestrial species inhabited current day Wyoming. Experts say it is a matter of time, place, and climate that prompted dinosaurs to live here. Como Bluff became famous for the start of the "bone rush" by fossil collectors.
Dinosaur hunting became the rave in the scientific world, and Como Bluff was at the center of such discoveries and the road to scientific fame. There were large numbers of dinosaur bones found in the Morrison Formation at Como Bluff and most were considered exceptionally preserved. Individual dinosaur bones had been found in England, western Europe, and eastern United States, but not like what was found at Como Bluff. Here complete or nearly complete skeletons were being discovered. Learn more about the facinating history of the dinosaur rush here: http://www.wsgs.wyo.gov/public-info/guide-como-bluff
You can see Como Bluff from Hwy 30 about 5 miles east of Medicine Bow, Wyoming. Como Bluff is about 10 miles long and 1 mile wide.
Four types of sauropods were found at Como Bluff. These included the plant-eating Apatosaurus (the correct name for Brontosaurus), Diplodocus, at 90 feet long, Camarasaurus, and Barosaurus. Other large herbivores that inhabited the area during the late Jurassic period included the Stegosaurus (known for its heavy armor), and Camptosaurus, Laosaurus, and Dryosaurus. Carnivores included the Allosaurus, Ceratosaurus, and Ornitholestes.
Dinosaur bones collected from the Morrison Formation of southern Wyoming can be viewed at the University of Wyoming Geological Museum in Laramie.
Upcoming Local Paleo Events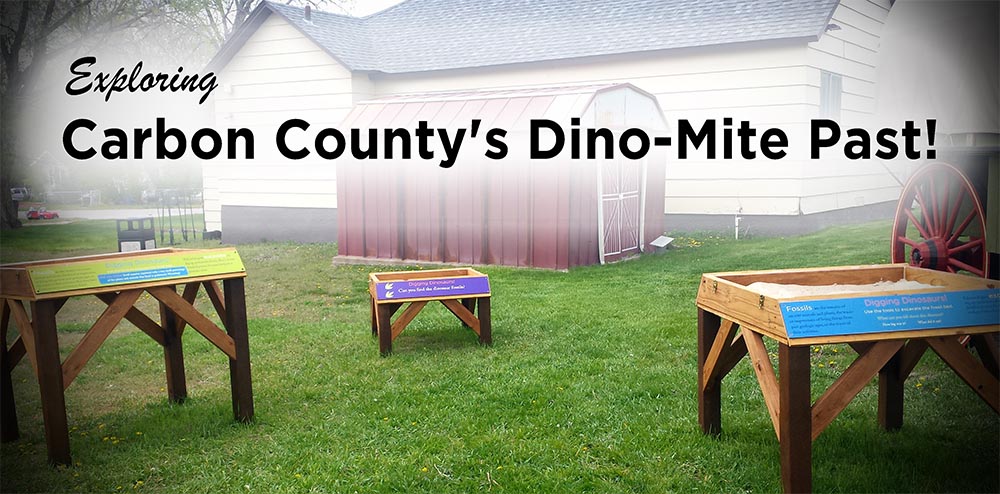 Exploring "Carbon County's Dino-Mite Past" : New Outdoor Dinosaur Exhibit - May 1st, 2016 - September 30, 2016 from 10 am - 6 pm at the Carbon County Museum. Carbon County's Dino-mite Past, a new, interactive, outdoor exhibit exploring Carbon County's paleontological history includes three standing excavation tables. Sized for toddlers, children, and adults, each table holds faux dinosaur fossils to simulate paleontological digs.
Interpretive signage exploring Carbon County's prehistoric past helps direct visitors in their interaction with the exhibit space and is designed to complement new dinosaur-focused touch-interactives planned for the museum gallery.
This exhibit and many other features of Carbon County Museum's grounds are open May 1 through September 30, annually. Outdoor exhibits are free and accessible to the public 7 days a week. Please utilize museum grounds and features with respect for your museum and our neighbors.
Event Information can be found here: http://carboncountymuseum.org/component/ohanah/outdoor-dinosaur-exhibit?Itemid=
check the Carbon County Museum's web site for more information and updates: http://carboncountymuseum.org/