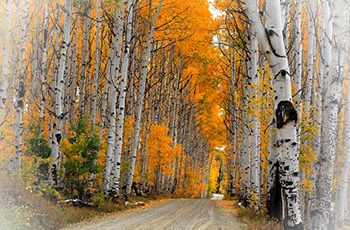 Welcome to Carbon County, Wyoming
Fishing - Hunting - Hiking - Hot Springs
When you travel Wyoming, find it all in Carbon County! Come out and visit us this autumn to enjoy fishing, hiking, scenic drives, hot springs soaking, events like the annual The Old Pen Haunted Tours, and fabulous local resorts and spas!
View E-Brochure
Check out our printable e-brochure.
If you love the outdoors you'll find plenty to love in Carbon County, Wyoming. Rodeos, festivals, microbrew festivals, concerts, parades, dances, wood-chopping competitions, museums, historic sites, natural hot pools, all await you in this scenic paradise. Learn more about all we have to offer in our e-brochure.
Find Carbon County Lodging by City
 

BAGGS
Bordering Colorado as it does, the valley was a host to many an outlaw riding hard trying to elude justice. Names as notable as Butch Cassidy and his infamous Wild Bunch, "holed-up" around the town of Baggs during the hay-days of the old west.
Baggs Wyoming Lodging

 
 
 
 
 
 

 

DIXON
As the Host City of the Little Snake River Valley Rodeo, Dixon, like the entire valley, has never strayed far from its western roots. Named for the trapper, Bob Dixon, the town has a wonderful charm and laid-back style.
Dixon Wyoming Lodging

 
 
 
 
 
 

 

ELK MOUNTAIN
Lying in the shadow of its 11,156-foot namesake, the settlement of Elk Mountain is a quiet community of cottonwood- lined  streets, picturesque buildings, with world class trout fishing right downtown.
Elk Mountain Wyoming Lodging

 
 
 
 
 
 

 

ENCAMPMENT
The town of Encampment lies at the base of the Sierra Madre Mountains. It sits at an elevation of 7400 feet and has a great small town atmosphere.
Encampment Wyoming Lodging

 
 
 
 
 
 

 

MEDICINE BOW
In Medicine Bow you will discover The Virginian Hotel (National Historic Register), Owen Wister's cabin (author of "The Virginian"), Medicine Bow Museum (renovated railroad depot) and Como Bluff dinosaur sight.
Medicine Bow Wyoming Lodging

 
 
 
 
 
 

 

RAWLINS
Rawlins serves as the County Seat for Carbon County. This city lies in the middle of everything, Rawlins is surrounded by desert, mountains, rivers, prairie, wildlife, and history. Rawlins is one of Wyoming's oldest cities.
Rawlins Wyoming Lodging

 
 
 
 
 
 

 

RIVERSIDE
Like its name, this small town lies along the banks of the Encampment River. A popular retreat for hunters and fishermen. Encampment and Riverside are close neighbors, lying less than a mile apart.
Riverside Wyoming Lodging

 
 
 
 
 
 

 

SARATOGA
Sarachtoue, which translates to "place of miraculous water in the rock." Saratoga sits atop one of the most active mineral hot springs in Wyoming. Natives, and later European settlers, both believed in the healing powers of the natural mineral baths.
Saratoga Wyoming Lodging