Carbon County Map Project
The Carbon County Visitors Council is pleased to present area visitors with a series of interactive maps to help you get the most out of your visit.
Explore popular hiking and biking trails, campsites, fishing spots, boating areas and more. We have 2 summer recreation maps. One for the northern portion of Carbon County and one for the southern portion. Choose an area to view our interactive maps. There is a wealth of recreation opportunities in Carbon County, Wyoming. These maps will help you find a new adventure as well as provide navigation to the areas that interest you!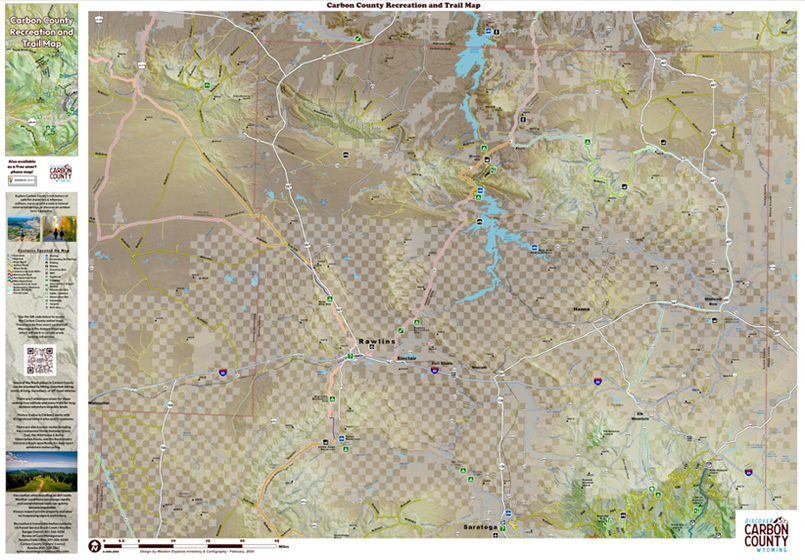 Explore Northern Carbon County with our interactive map.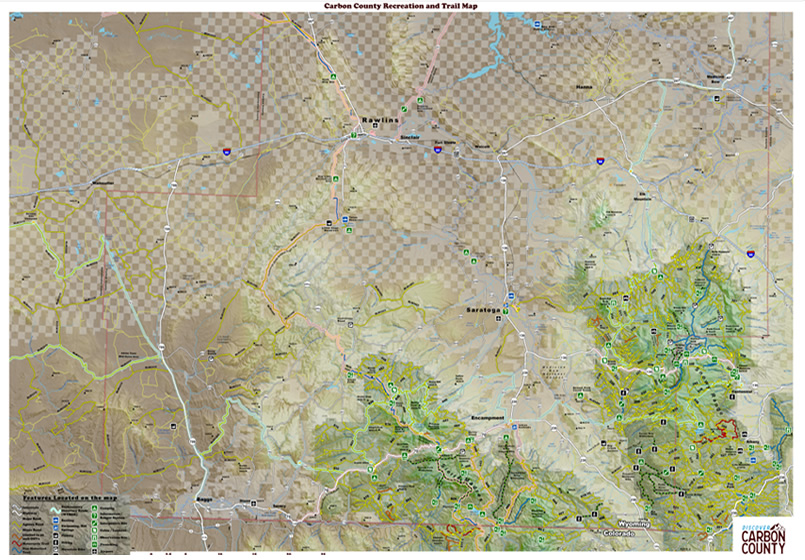 Explore Southern Carbon County with our interactive map.
On your phone:
1) Download the free Avenza Map app from the App Store or Google Play
2) Download the maps from Avenza here: https://www.avenzamaps.com/maps/817356/carbon-county-trails

Pick up a map at the Carbon County Visitors Council office:
1) Stop by our office at 508 W Cedar in Rawlins WY.
2) Pick up a water resistant area map - available for purchase only.
---
Interactive Outdoor Activities Map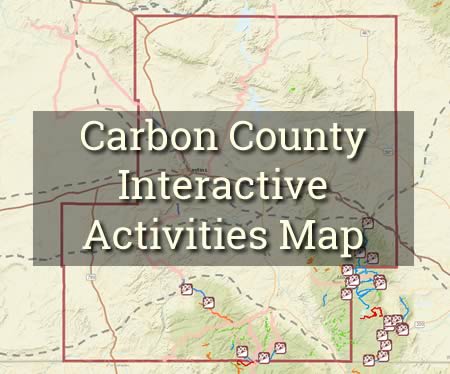 Find the best spots for Outdoor Recreational Activities
Find the best places in Carbon County for popular outdoor recreational activities including mountain biking, camping, fishing, hiking, hunting, motor & water sports, and scenic tours and historic sites.
---
Legacy Carbon County Map
This map was created by the Carbon County Visitors Council in 2006/2007 but it still has some great information on it. Feel free to download or print this legacy map of Carbon County, Wyoming. Some of the information may be dated so please make sure to keep that in mind when making plans using our legacy map. For a more recent map use the one above. Find lodging, camping, hiking trails, scenic routes, lakes, rivers, fishing spots and more.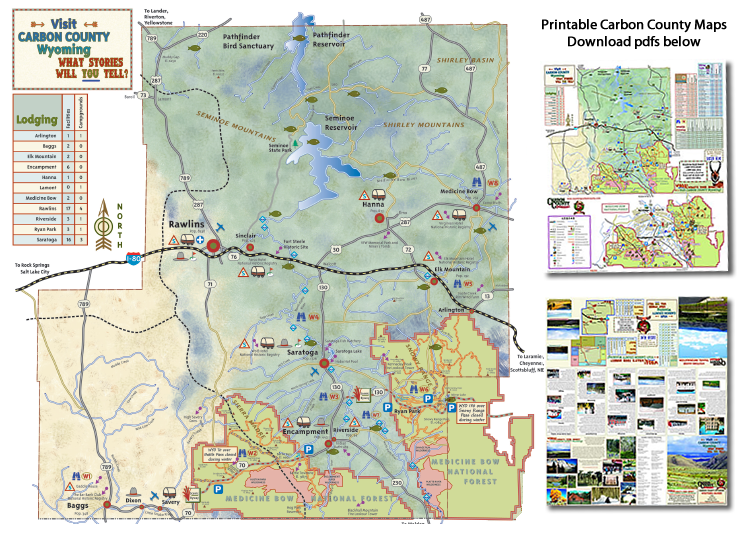 ---
On the Road & Off I-80
I-80 passed through Wyoming's Carbon County and provides easy access to most of Carbon County's towns & cities. Rawlins, Carbon County's largest city is just an exit away. Saratoga, Baggs, Dixon, Savery, Riverside, Encampment, Medicine Bow, Hanna, Elk Mountain and Sinclair are all just off the interstate as well. This great map infographic will show you the exit numbers.

---
Snowy Range and Sierra Madre Snowmobile Maps
These trail maps show snowmobile and cross country ski trails in popular winter recreation areas in Carbon County. The Snowy Rnage and Sierra Madre are great locations to get out and enjoy winter recreation. You can view more information about winter recreation by visiting our snowmobile page or our cross country skiing page.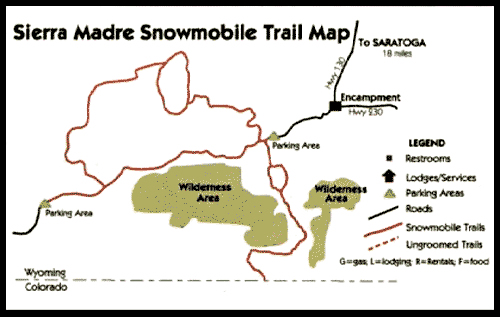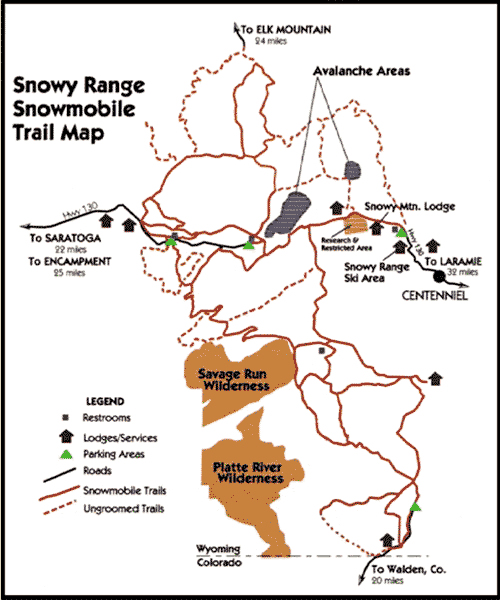 ---
Snowmobiling areas
This map infographic illustrates the locations of popular snowmobiling areas in Carbon County, Wyoming. You can learn more about snowmobiling in our area on our snowmobiling page.
• Area A) Snowy Range
• Area B) Sierra Madres
• Area C) Shirley Mountains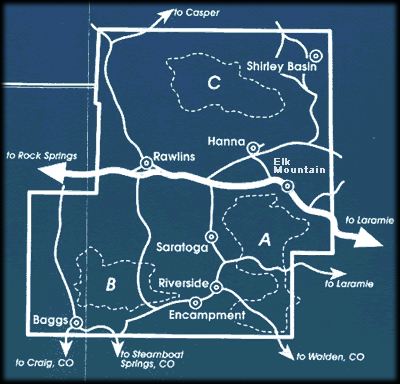 ---
Cross Country Skiing Trails
Cross country skiing is a popular winter activity in Carbon County, Wyoming. The maps below illustrate some popular skiing loops. Make sure to wear winter clothing and bring plenty of water. Learn more about cross country skiing in Carbon County by visiting our cross country skiing page.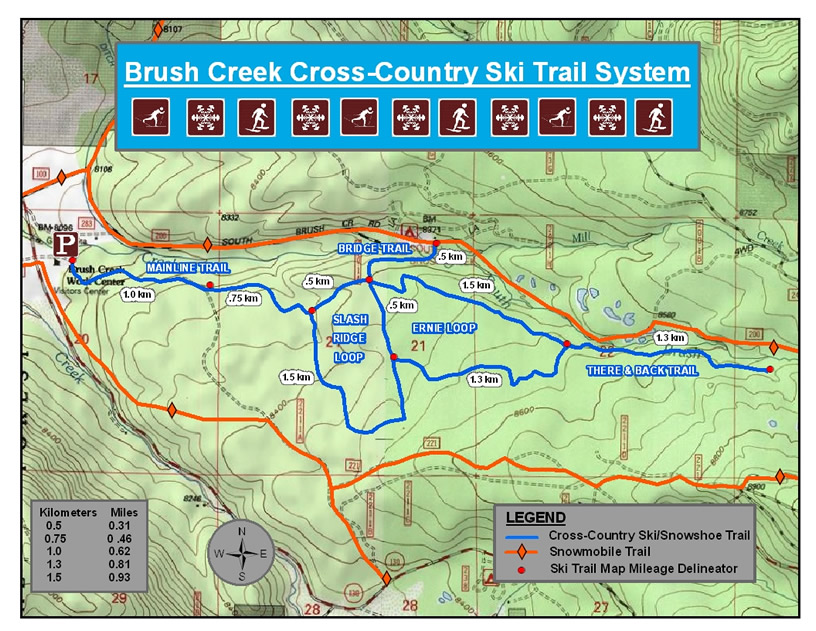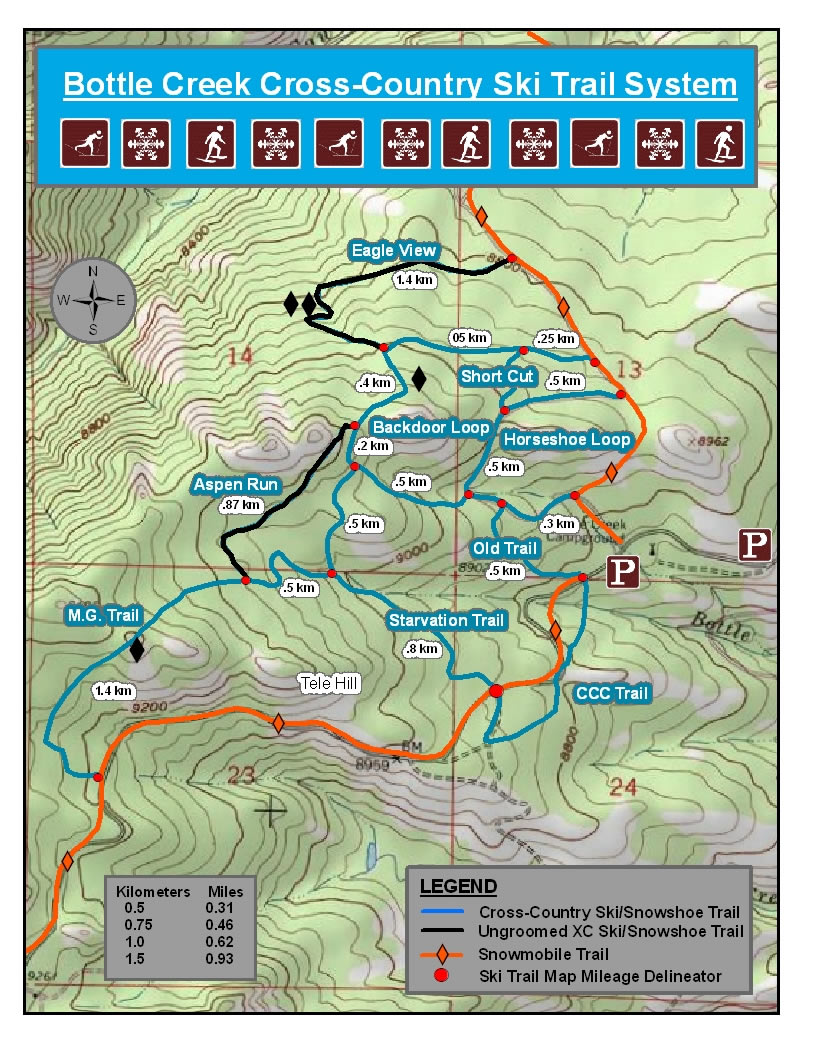 ---
Carbon County Map
This map shows the general area, roads and cities in Carbon County. It will give you a general idea of the locations of our communities and road systems along with the 2 National Forest recreation areas, lakes and waterways you can enjoy while visiting Carbon County, Wyoming.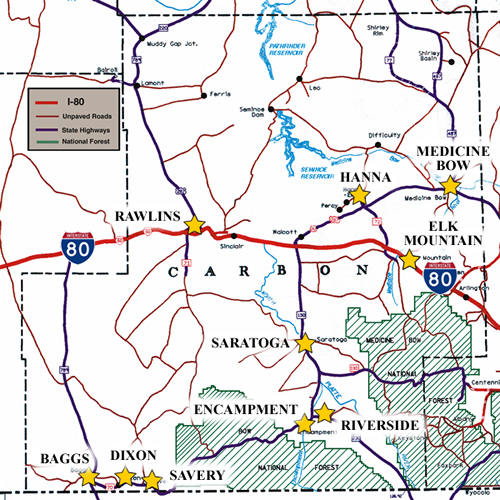 Looking for a more detailed area maps? The Rawlins BLM office is a great resource. You can reach them at 307-328-4200 or visit their website: https://www.blm.gov/office/rawlins-field-office