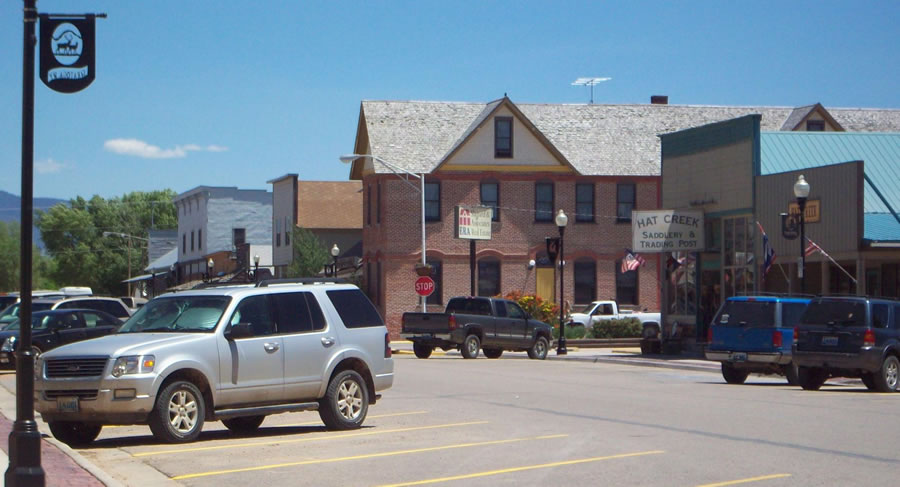 Relatively unknown compared to other tourist destinations in Wyoming, Saratoga still holds its unspoiled charm and western heritage to heart. Exemplifying this heritage are places like the historic Wolf Hotel built in 1893, by German emigrant Frederick Wolf. This glorious old brick building still stands as a centerpiece of the town and welcomes guests year-round. Other attractions include the Hobo Hot Springs. This is a natural mineral pool where visitors can swim and relax in the hot-baths 24-hours a day free of charge. Saratoga Hot Springs Resort offers visitors many anemities including a microbrewery, day spa and guided outdoor adventures, while the Saratoga museum is open during the summer affording visitors a peek into the town's rich past.
The Saratoga National Fish Hatchery, built in 1915, lies just to the north of town. Visitors are welcome, and the tour is something both children and adults will enjoy. Seemingly out of place in the small rustic town is Shively airfield. Although there is no commercial service available here, its 8,400-foot runway is capable of handling all sorts of aircraft including private jets.
Saratoga is a sportsman's paradise offering anglers a true blue ribbon trout fishing experience in the nearby North Platte River. There is also access to big game hunting of all kinds in the nearby mountains and plains. Local guides and outfitters are happy to show their favorite places to "bag a big one". Saratoga is host to many events throughout the year. The Ice Fishing Derby held at Saratoga Lake draws anglers from all around. Also there are rodeos, brew festivals, chili cook-offs, outdoor concerts, art festivals, and even chariot races each year, here in Saratoga. Contact the Saratoga Platte Valley Chamber of Commerce for specific information when visiting The Good Times Valley.
Saratoga Highlights
Hobo Hot Pool The hot pool is located on Walnut Street. Much of the history of Saratoga revolves around the world famous mineral hot springs and thermal waters. Native Americans would come and soak in the hot springs which were considered neutral territory. Eventually a bath house was built as more and more visitors began coming to the Platte Valley. The same waters that brought the first settlers into the fertile North Platte River Valley still attract travelers and natives. Free and open to the public 24 hours a day, 7 days a week, the Saratoga Hot Pool is the ultimate for healthy relaxation with water temperatures ranging from 106 to 119 degrees.
The Historical Hotel Wolf opened its doors on New Years Eve in 1893 with a gala masquerade ball. Over its lifetime, The Wolf has served as a stop on the Stage line, a barber  shop, a guide/outfitter service, a drive through liquor store and an art gallery. It has also played home to many visiting celebrities. The Wolf Hotel is on the National Register of  Historic Places. Today the Hotel Wolf has been restored and looks much as it did in 1893.
Saratoga Lake Saratoga Lake is a favorite spot for fishing, boating, water skiing, and wind surfing. Just a mile and a half and a few minutes north of town off WYO 130/230, the lake is noted for a year-round fishing excellence. A boat dock makes loading and unloading a piece of cake. Also, the lake campground provides water and electrical hook-ups fora fee and is operated by the Town of Saratoga at 326-8335.

Shively Field Saratoga also has an airport with an 8,400 ft paved and lighted runway, with a rotating beacon, tie downs for small aircraft and parking for others. Saratoga Aviation is the fixed base operator and can supply jet A and 100 low lead aviation fuels. Car rentals are available from the FBO.
Platte Valley Community Center (PVCC)
The Platte Valley's home for art shows, wedding receptions, presentations, performing art, workshops, meeting spaces, educational enrichment and cultural experiences. 210 W. Elm Ave. Saratoga, WY • (307) 326-7822 Visit Website
Veteran's Island and Kathy Glode Park
Families gather at Veteran's Island and Kathy Glode Park for picnics, outdoor playground equipment for the kids, skate park and river access. In the winter ice skating is available.



The Saratoga National Fish Hatchery is operated by the US Fish and Wildlife Service is located 4 miles northeast of Saratoga Wyoming off State Highway 130. The hatchery present dates back to 1915 and raises rainbow, brook, Snake River cutthroat, Colorado River cutthroat, and the endangered Greenback cutthroat for stocking. Adult cutthroat, brown and lake trout are kept there for breeding. Visitors are welcome to visit the display room, tank room, rearing ponds and raceways. Trout eggs produced from the broodstock are shipped to other federal and state hatcheries nationwide where they are raised for stocking. In 1995 and 1996 the hatchery underwent extensive renovations including the addition of new concrete raceways for the fish. Admission is Free. Visit Website
The Saratoga Museum is housed in what was originally the railroad depot for the town, which was moved to the south hill across from the airport several years ago. Since then the complex has grown to include a caboose, boxcar and other exhibits as well as an extensive guide to the past of Saratoga and the Platte Valley. Archeology exhibits, regional railroad display, Bison diorama, history of the local Episcopal Church, and several hands-on displays that all make it worth your while to stop at the museum. Local volunteers are very knowledgeable and the museum is open from Memorial Day through Labor Day from 1 to 5 pm. In the off season tours can be easily scheduled. Visit Website


Medicine Bow National Forest Like those distance days, the mountain peaks of Medicine Bow National Forest are a welcoming sight. Besides the promise of relief from summer heat, these mountains offer a wide variety of recreational opportunities. Rock-climbing, rafting, boating, fishing, and trails, available for foot, motorized and stock, are some of the activities enjoyed in the Forest. A number of developed camping locations, located close to recreational activities, offer a convenient place for an overnight stay as well as longer visits.  Visit Website

The Red Sage Spa Located in downtown Saratoga, the Red Sage Spa offers Massage, Body Treatments including mud wraps and body polishes as well as traditional treatments like facials, pedicures and manicures.  307-326-8066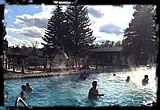 Saratoga Hot Springs Resort  Indulge in some much-needed 'me' time with pampering spa treatments designed to relax the mind, body and spirit through the nurturing, health-healing touch of our skilled therapists. The Saratoga Hot Springs Resort occupies the original State Bath House, which was built in 1902. Ideally located at the back of the mineral hot spring courtyard, the Spa offers a welcoming and relaxing environment for treatments and services. Plus a fine selection of retail products including Phytomer Skincare-the latest in marine biotechnology, swimsuits, jewelry, Farm House Fresh soaks and scrubs and Naturopathica body oils. Open daily from 9am to 7pm and by appointment at 307-326-5261, ext. 208. Learn more at: http://saratogahotspringsresort.com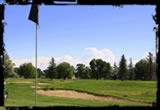 Saratoga Hot Springs Resort Golf Course and Pro Shop Opened for play since the 1950s, this scenic 3,580-yard, 9-hole course is well known for its cliff-top tee, three over river shots and wildlife rich setting. It offers challenge to golfers of all levels and abilities with excellently conditioned fairways and greens that straddle the North Platte River. It's the type of course you will enjoy playing again and again.
Stop by the Pro Shop and visit with Matt Daubner, PGA Head Golf Professional. Matt offers private lessons, which is the fastest way to learn. The Pro Shop has everything you need to improve your game including accessories, rental clubs, equipment, and golf apparel. Learn more at: http://saratogahotspringsresort.com