Discover Historic Downtown Rawlins
A nationally designated historic district, downtown Rawlins is rich in 19th century architecture. Named for General John A. Rawlins, who commanded an expedition through the area, Rawlins traces its origins to the late 1860's and the early history of the Union Pacific Railroad. A 60 – 90 minute historic walking tour provides visitors with a fascinating glimpse into Rawlins' colorful past.
---
Discover the Rich History of Carbon County on a Walking Art Tour
Immerse yourself in the history of Carbon County with Rawlins' downtown art tour. This educational walking tour, supported by Rawlins DDA/Main Street, Carbon County School District #1 Recreation Board, Carbon County Visitor's Council, and the Wyoming Arts Council, showcases the county's history through murals and other art pieces created by local artists. The 12 murals, created between 2005-2007, celebrate the natural beauty and historical innovations of south-central Wyoming. From the innovative work of Thomas Edison and James Candlish to the beauty of the native pronghorn and aspen, the mural tour offers a glimpse into the diverse and fascinating history of the region.
To begin your journey, pick up a brochure at the Rawlins DDA/Main Street Office (located in the Rainbow Teton Entrepreneur Center at 116 4th St.), Rawlins Chamber of Commerce, or at any of the murals. The tour starts at Depot Park, situated at the corner of 4th and Front Streets, where you can also obtain the brochure. Additionally, the brochure can be downloaded below.
Embark on this unique art tour and Discover the rich history of Carbon County, Wyoming.
Click here for to download PDF version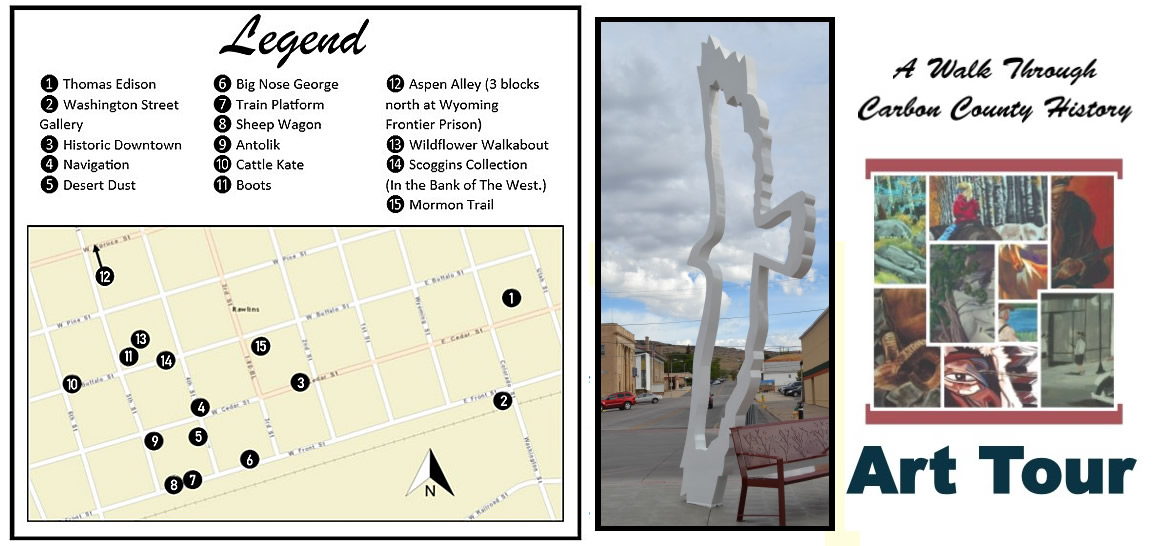 Whether you're an art lover or history buff, the murals scattered around downtown Rawlins are a great way to start exploring the town. The link below goes to a blog with full descriptions of all the murals.